Principal
Dr. K. Vanitha Prakash. M.Pharm., Ph.D.,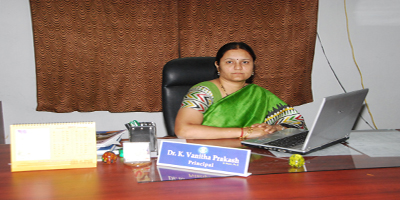 Dr. K. Vanitha Prakash, Professor cum Principal, S.S.J. College of Pharmacy, Hyderabad, A.P. has been awarded the Doctor of Pharmacy (Ph.D) in Pharmaceutical Sciences, by the esteemed University Jawaharlal Nehru Technological University, Hyderabad, A.P for her thesis entitled "Analytical Method Development of Some Drugs and Their Formulations" . The research work was carried out under the active guidance of Prof. Dr. J. Venkateswara Rao, Director, Sultan-Ul-Uloom College of pharmacy, Hyderabad. And under the coguidence of Dr. V. Hima Bindu, Prof. Centre for Environment, JNTU, Hyderabad.
Dr. K. Vanitha Prakash is serving in the pharma teaching profession for more than 17 years. She has published 59 scientific papers in various national and international journals and presented papers in national conferences. She is life member of APTI, AP State Pharmacy Council.